Finally, driving season is upon us! The calendar said it started 2 months ago, but 40 degrees, snow, clouds, do not a drive in the country day make.
Member numbers for April reflect that poor weather. In years past April and May have been some of the strongest months in gaining new members, as pleasant weather beckons anew to the hearts and minds or sports car fans. Not so this year; for April, only 2 new members. Though, on the brighter side, we did have two new prospects: Greg Hoffman and Paul Slaughter both signed up for test drive membership while they search for a car.
We also had four members expire: wait, let me say that another way. Four memberships have expired might be the better way to say that.
Last, we should all congratulate Russel and Rose Stein and Jerry and Lillian Seligman; celebrating 40 and 39 years membership in the club!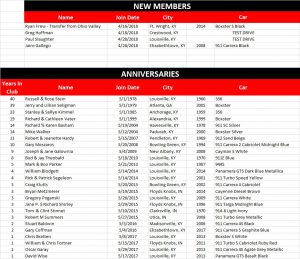 http://kypca.org/wp-content/uploads/2014/02/newest-logo3.png
0
0
Anthony Minstein
http://kypca.org/wp-content/uploads/2014/02/newest-logo3.png
Anthony Minstein
2018-05-02 08:16:27
2018-05-25 18:23:38
May 2018 Membership Report