An old proverb states: "March comes in like a lion and goes out like a lamb". Well, here in Kentucky, it's more comes in like a lion and hangs around like a feral boar. Scheduling drives means potentially contending with rain, sleet, ice, cold, sunshine, and that's all in one day.
This past Saturday, a group of stalwarts braved the 30 degree temperatures to meet at the rest area on I64 at 8:30 because, well…getting the car out is important, but even more: visiting not 1, but 2 separate donut shops is well-nigh life saving. In the words the great philosopher, Homer Simpson: "Uhm…donuts"…indeed.
We left the interstate in Shelbyville venturing out on some of Kentucky's fine back roads, around, alongside and over the Kentucky river and its many tributaries. For those geology buffs among us, the open limestone cliffs were a stark reminder of the tremendous waterflow through here from the melting of the great ice sheets of the last ice age. How much water?
Well, water density at room temperature is 0.998g/cm³; the density of ice is 0.9167 g/cm³.  The ratio of volumes is inversely proportional to the ratio of densities.  So, for example, one gallon of water near the freezing point would make the equivalent of 1.090 gallons of ice. When an ice sheet two miles thick melts it produces a lot of water. Enough to carve out hills, valleys and carry off sediment, displaying (and eroding) the hard rock underneath.
Whatever: we had a lot of pretty scenery to drive through as we got to our first stop: B's Bakery in downtown Frankfort. Their constantly shifting selection of fresh donuts made decisions hard and a number of us grabbed some to go. The heath bar donut especially interested me, but too much sugar can be, well, too much.
After B's, we saddled up and went out through the flat farm lands of central Kentucky, again driving along the Kentucky river and more of it's tributaries, but this time, in the flatter zone indicative of the Kentucky Bluegrass. We ended up driving through the thoroughbred horse farms producing Derby competition to arrive at our 2nd stop: Doughdaddy's Donuts outside Versailles. Although a donut specialty house, the clear winner was Bs with their varied home made specialties.
We finished off the drive with lunch at the Versailles Tap Room (enough safe parking for the Porsches) before striking out back home. Great drive, though some of those one lane wide roads were a bit off-putting to all concerned.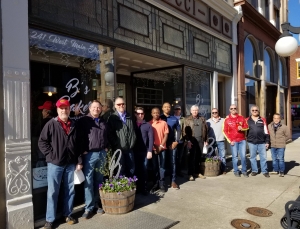 https://kypca.org/wp-content/uploads/2014/02/newest-logo3.png
0
0
Anthony Minstein
https://kypca.org/wp-content/uploads/2014/02/newest-logo3.png
Anthony Minstein
2019-03-24 10:23:31
2019-03-26 21:25:28
2019 Endurance Donut Run