"It was a dark and stormy night…", well actually, cloudy (thought it did get stormy later) and  morning. But, an opportunity to consume excellent donuts at our meet up spot preparing to brave the elements for the 200 mile round trip to Story, IN, inside Brown County. We explored the farm country and roads over and on top of glacial moraines visiting two separate covered bridges.
Although rain had threatened, we were able to get to the Story Inn on time for brunch, surrounded by antique bottles, glassware and a meat grinder (I remember my mother using one in the 1960s).
Story was founded in 1851, a land patent grant from President Millard Fillmore to Dr. George Story. Story soon became the largest settlement in the area, in 1880-1929 supporting two general stores, a nondenominational church, a schoolhouse, grain mill, sawmill, slaughterhouse, blacksmith's forge and post office. Story never recovered from the Great Depression creating the opportunity for the State of Indiana to purchase 16,000 for what is now Brown County State Park.
"March comes in like a lion and goes out like a lamb". Well, here in Kentucky, we add "…and hangs around like a feral boar". Scheduling drives means potentially contending with rain, sleet, ice, cold and warm sunshine: all in one day.
With weather remaining so uncooperative, our next adventure was a tech session at Bluegrass Motor Sports. The how's of replacing plugs on coils. Well attended, we were walked through the procedures and dos and don'ts…afterwards, consuming large quantities of pizza.
Our last activity for the month the 2nd Annual Endurance Donut Run, visiting separate donut shops around central Kentucky. As Homer Simpson says: "Uhm…donuts"…indeed.
We ventured out on some of Kentucky's fine back roads, around, alongside and over the Kentucky river and its many tributaries. For those geology buffs among us, the open limestone cliffs were a stark reminder of the tremendous waterflow through here from the melting of the great ice sheets of the last ice age. How much water? Considering water density at room temperature is 0.998g/cm³ and ice is 0.9167 g/cm³,  the ratio of volumes is inversely proportional to the ratio of densities.  So an ice sheet two miles thick melting produces a lot of water: enough to carve out hills, valleys and erode the hard rock underneath.
Whatever: we had a lot of pretty scenery to drive through as we got to our first stop: B's Bakery in downtown Frankfort. Their constantly shifting selection of fresh donuts made decisions difficult and a number of us grabbed some to go. The heath bar donut especially interested me, but too much sugar can be, well, too much.
After B's, we saddled up and went out through the flat farm lands of central Kentucky, again driving along the Kentucky river and more of it's tributaries, but this time, in the flatter zone indicative of the Kentucky Bluegrass. We ended up driving through the thoroughbred horse farms producing Derby competition to arrive at our 2nd stop: Doughdaddy's Donuts outside Versailles. Although a donut specialty house, the clear winner was Bs with their varied home made specialties.
By the time we had finished lunch, it was warm enough to put down the top (albeit with seat and steering wheel heaters in ON position) as we drove home.
Primary Members: 305
Co Members: 177
Total Members: 482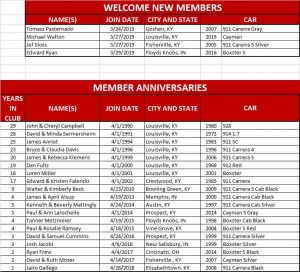 https://kypca.org/wp-content/uploads/2014/02/newest-logo3.png
0
0
Anthony Minstein
https://kypca.org/wp-content/uploads/2014/02/newest-logo3.png
Anthony Minstein
2019-03-31 11:55:54
2019-04-08 16:35:09
April 2019 Membership Report