August was relatively quiet for the Kentucky Region. We're gearing up for our 2nd hosting DE in early September, plus folks are getting ready for the end of summer. Which didn't stop us from a 3rd ice cream run (our club seems to like events which end with a meal, or with ice cream).
This time, it was a run out to Ghirardelli ice cream parlor at the new Outlet shoppes, just outside of Louisville. We could have taken the freeway; 20 minutes tops, but where is the fun in that? Instead our activity committee created an hour and a half romp through central Kentucky 2 lanes and farm roads. At one point, our train of 16 cars took up the whole road. Lucky for us we didn't run into a farm tractor coming the other way. The ice cream was good, the drive, better…and the socializing at the ice cream store the best of all.
Our 2nd event was a pool party at the Minstein's. This has become an annual event, the 2nd year the Minstein's gave up their backyard and pool for the club. Food and drink again was provided by the club and prepared by the Minsteins. White Castle hamburgers, chicken wings, a grilled salmon (expertly grilled by Vycki Minstein), Tater Tots, Salad and a smoked brisket (smoked by Event Chair TH Morris) laid out under what turned out to be a very pleasant summer evening.
The event ended with a number of swimmers in the pool, and all guests imbibing a dessert of Klondike Bars and Cracker Jack.
Primary Members 305
Affiliate Members 175
Test Drive Members: 1
Total Members 480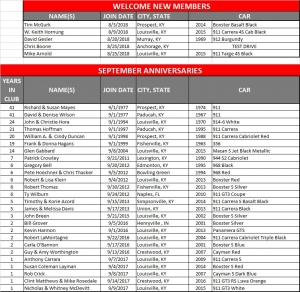 http://kypca.org/wp-content/uploads/2014/02/newest-logo3.png
0
0
Anthony Minstein
http://kypca.org/wp-content/uploads/2014/02/newest-logo3.png
Anthony Minstein
2018-09-01 17:28:36
2018-09-01 17:28:36
September Membership Report