Oh, boy…driving season is here! That means some great drives and other activities coming up for the club. TH Morris, club Activity Chair, with input from club members, has scheduled some great activities. Ice cream runs, distilleries, breweries, ice cream, a suicidal donut run (with lunch at Cap'n Franks Hot Dog Emporium), base ball, ice cream and more (did I mention ice cream?!?!).
In March, we have 30 members celebrating their membership anniversary with Alec and Brandee Van Ryan celebrating 38 years in the club!
In February, we had 8 new members, with two incoming transfers.
Stay involved with club, whether it's DEs, membership meetings, weekend drives or just plain socializing…this is your club, as long as you stay involved.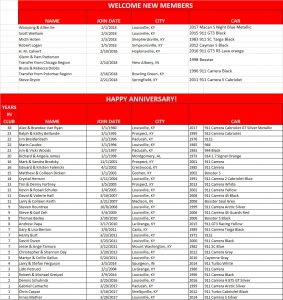 http://kypca.org/wp-content/uploads/2014/02/newest-logo3.png
0
0
Anthony Minstein
http://kypca.org/wp-content/uploads/2014/02/newest-logo3.png
Anthony Minstein
2018-03-01 16:30:33
2018-03-01 16:30:33
March 2018 Membership Report